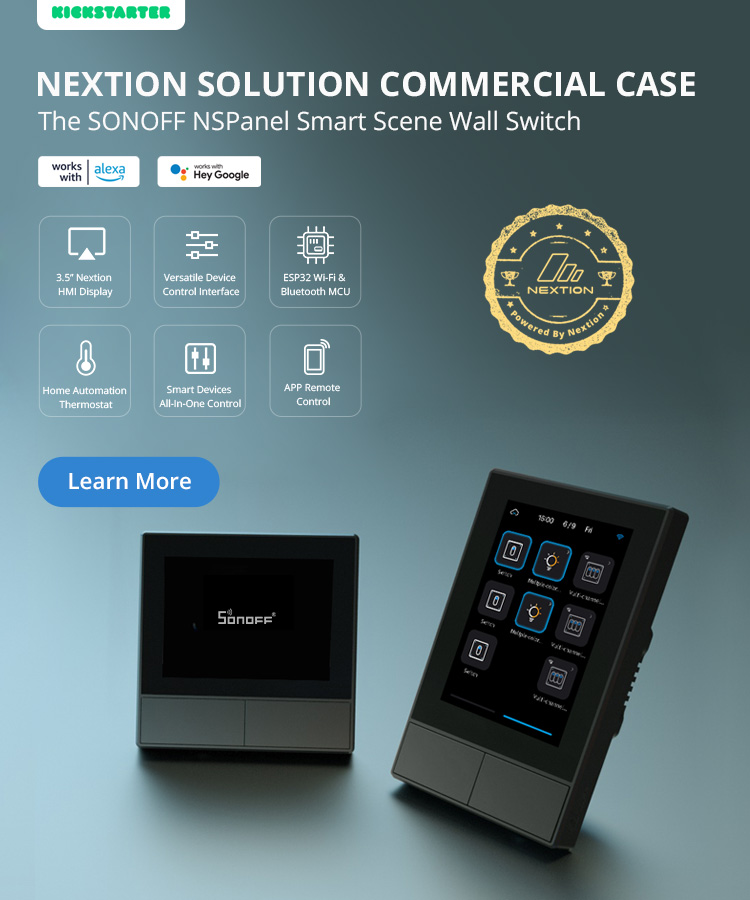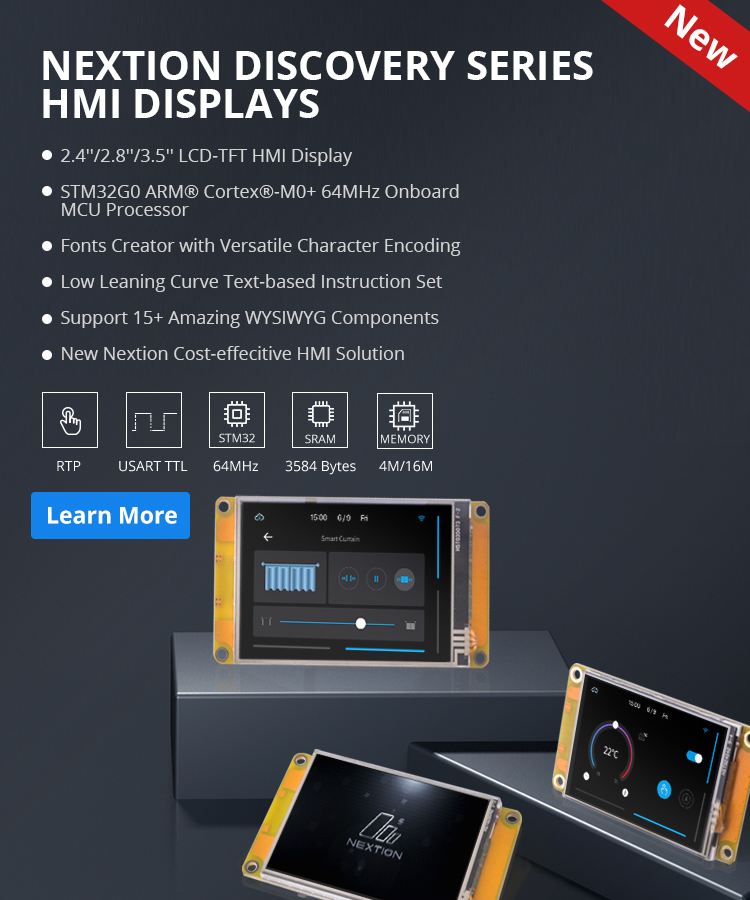 Learn More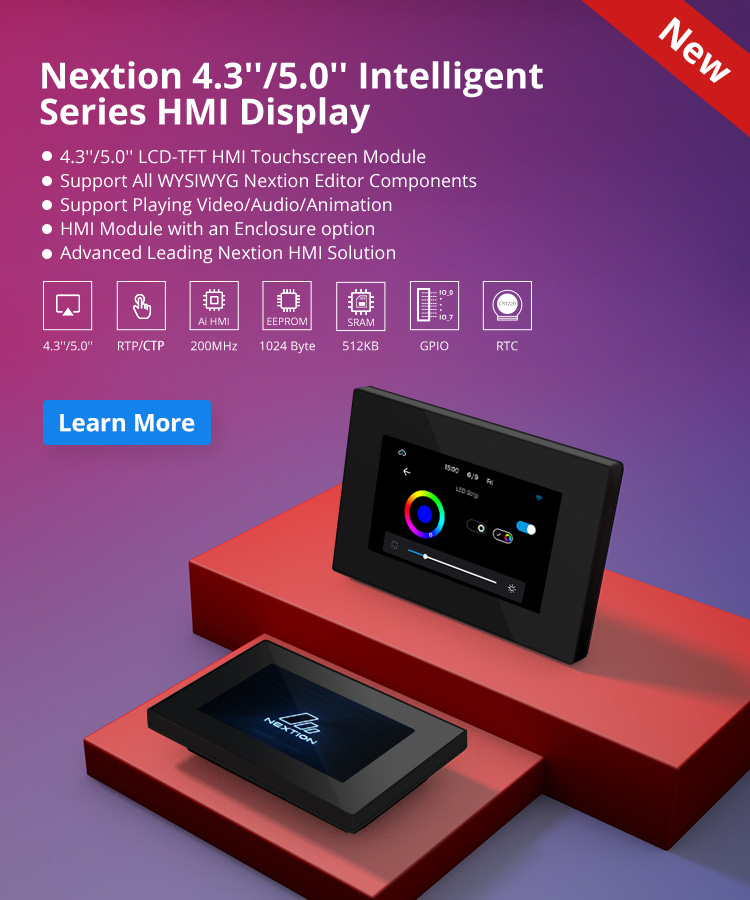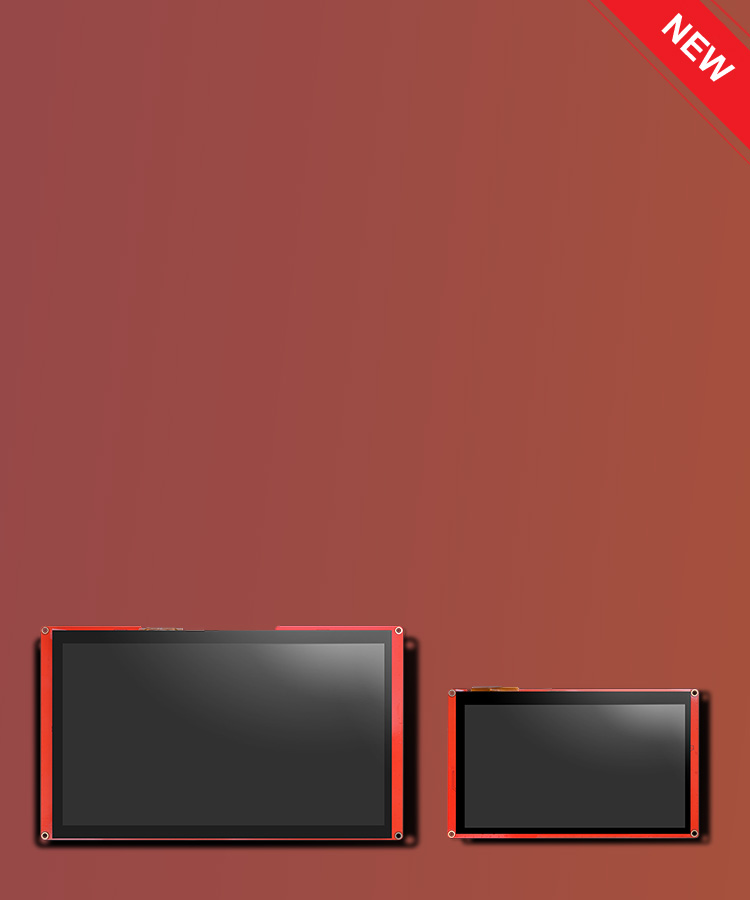 NEXTION INTELLIGENT HMI
DISPLAY
• Powerful Onboard MCU 200MHz and up to
128MB for HMI Project
• Available Display Size in 7.0" and 10.1"
• Video/Audio/Animation Play Functions
• Multi Loading Effect for Pages and Components
• Transparency Attribute Components
• Component Move and Drag at Runtime
• The Advanced and Powerful HMI Solution
Buy Now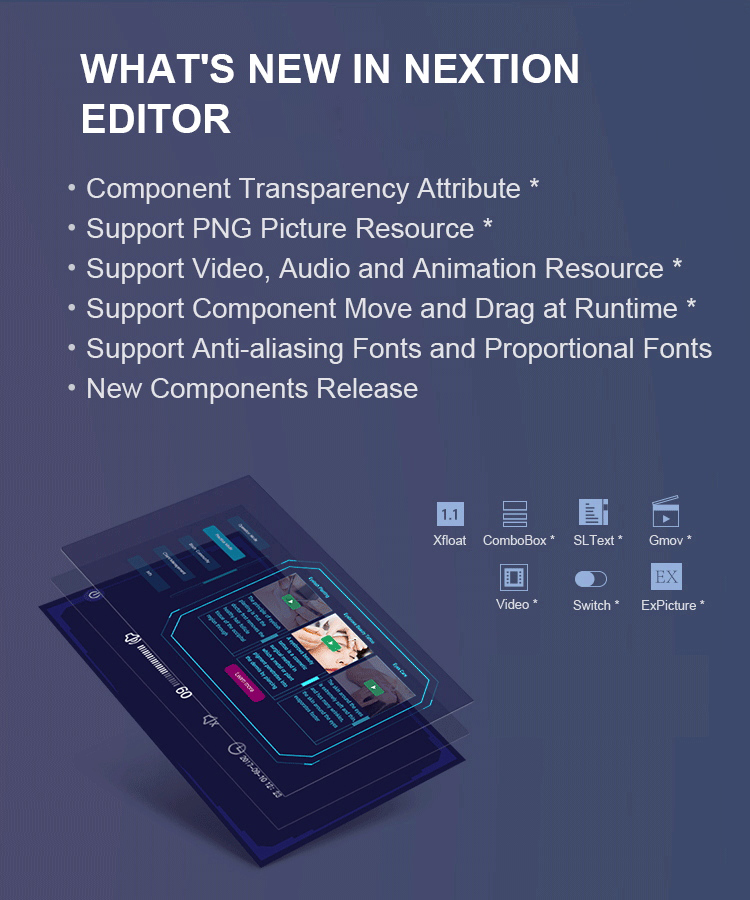 Learn more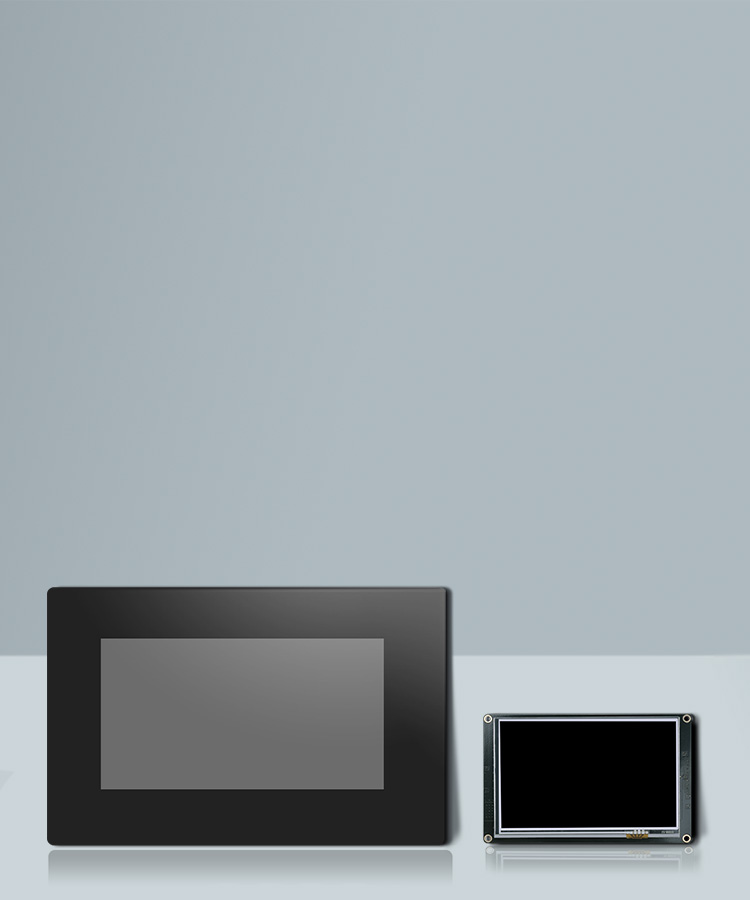 NEXTION ENHANCED HMI DISPLAY
• 7 Display Size Options
(2.4", 2.8", 3.2", 3.5", 4.3", 5.0", 7.0")
• TFT RGB 65K Resistive/Capacitive(7.0")
Touchscreen
• Onboard EEPROM, RTC and 8 Digital/Binding
GPIOs (4 PWM capable)
• Up to 16/32 MB Memory for HMI Project
• The Enhanced and Ease of Use HMI Solution
Buy Now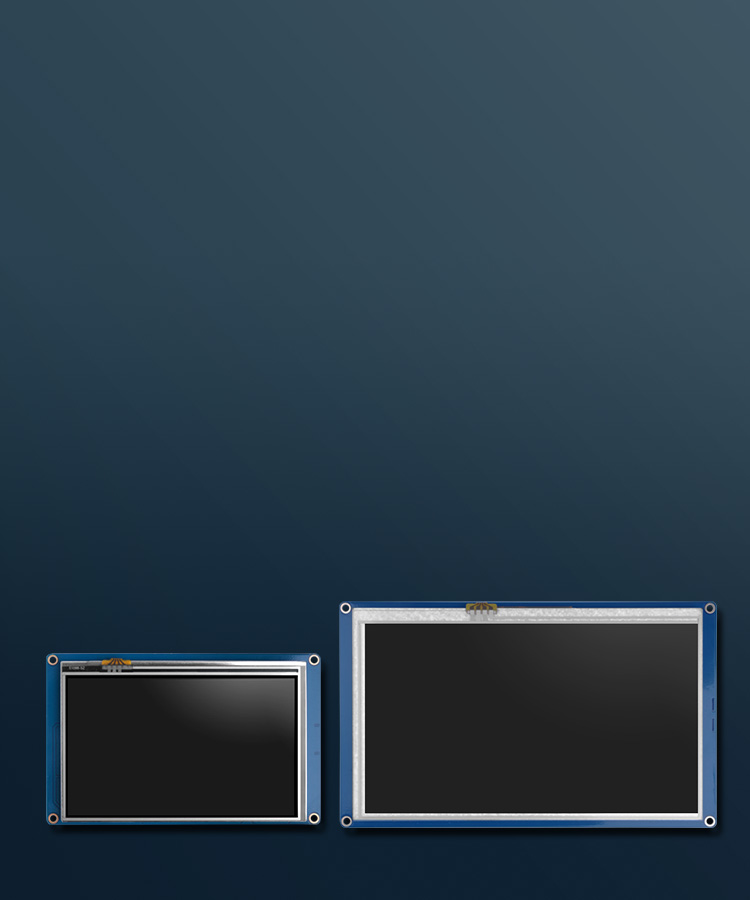 NEXTION BASIC HMI DISPLAY
• 7 Display Size Options
(2.4", 2.8", 3.2", 3.5", 4.3", 5.0", 7.0")
• TFT 65K RGB Resistive Touchscreen
• Onboard Processor and Memory
• Simple ASCII Text Based Instruction Set
• The Cost-effective HMI Solution with Decreased
Learning Curve
Buy Now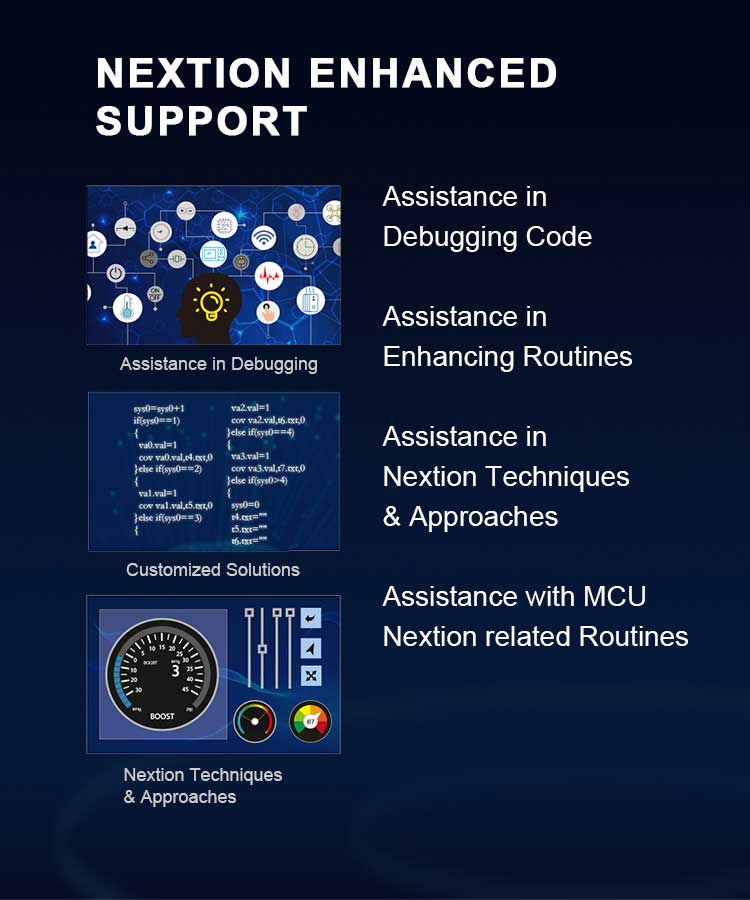 Learn more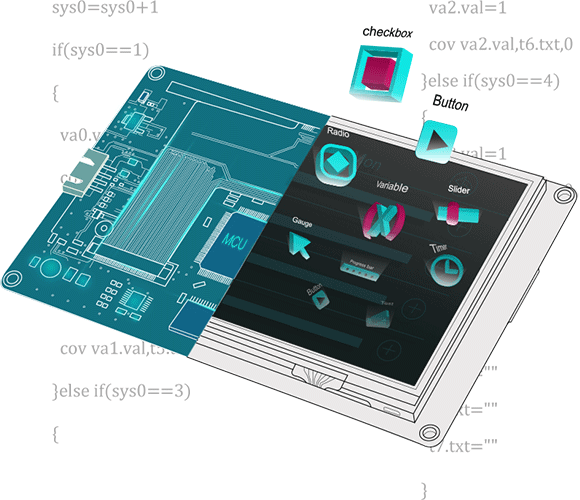 What's Nextion
Nextion is a Human Machine Interface (HMI) solution combining an onboard processor and memory touch display with Nextion Editor software for HMI GUI project development.
Using the Nextion Editor software, you can quickly develop the HMI GUI by drag-and-drop components (graphics, text, button, slider, etc.) and ASCII text-based instructions for coding how components interact on the display side.
Nextion HMI display connects to peripheral MCU via TTL Serial (5V, TX, RX, GND) to provide event notifications that peripheral MCU can act on, the peripheral MCU can easily update progress, and status back to Nextion display utilizing simple ASCII text-based instructions.
Our mission is to reduce the HMI development workloads.
Nextion Offers an Ease of Use and Cost-effective HMI Solution for You.
90

45

120

45

2.8

000

289

200.0

0

Mix
Rapid 30′
Quick
Spin
Cotton
Wool
Down
Eco
JOIN THE NEXTION FORUM
Share project ideas & Discover innovation and inspiration
Viewing 3 topics - 1 through 3 (of 3 total)
Viewing 3 topics - 1 through 3 (of 3 total)
Subscribe to our Newsletter